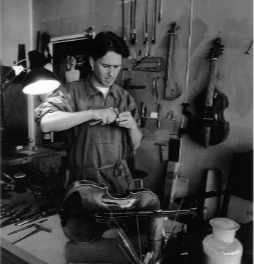 Hans Johannsson makes violins violas, cellos, double
basses and various other stringed instruments. His passion f
or the violin started at an early age in the workshop of his grandfather Gudjon Halldorsson, a cabinet maker in Reykjavík, Iceland. After having finished his studies at the Newark School of Violin Making in Great Britain with a diploma of distinction,under Maurice Bouette and Glen Collins in 1980 and subsequently recieving a masters diploma from the Icelandic Arts and crafts council in 1982, he has been making instruments for professional musicians in many countries. Hans has been making his instruments after his own model, designing all outlines and proportions on an ever evolving basic line. He has not made copies except in rare circumstances, as he believes that the great masters of earlier times all created their own distinctive style based on a classical theme, and that emulation is only practical when serving an educational purpose.



Some special projects

2014. Lectures and workshops on acoustics for string players at the 36th Civebra festival in Brasilia, Brazil.

2013 Modular Cello experiments with Hildur Gudnadottir at the Holland festival in Amsterdam.

2013. Lecture Iceland Academy of the Arts. Technology and Tradition.

2013. Participated in the Contemporary Violin Making Exhibit, Julie Reed-Yeboah fine violins, Manhattan N.Y.

2012 Presentation "Knock on Wood" Instrument making technology. Ung Nordisk Musik, Music and Innovation lecture series.

2012. Participated in the Contemporary Violin Making Exhibit, Julie Reed-Yeboah fine violins, Manhattan N.Y.

2011. Participated in the Contemporary Violin Making Exhibit, Julie Reed-Yeboah fine violins, Manhattan N.Y.

2011. Lecture on the acoustics of shape and space. Raumexperimente, Universitat des Kunstes, Berlin

2009. Lecture on violin technology and architectural influence, resonance, and acoustics at the Library of Alexandria, Egypt

2008. Lecture and experiment at "Life in Space"seminar, Studio Olafur Eliasson, Berlin.

2007. New York times magazine 7th annual year in ideas for work on new instruments.

2007. 21st Century violin project with Olafur Eliasson and Andreas Eggertsen, debut of the violin installation at the Serpentine Gallery, Hyde Park, London

2005. Viola Timbre, a lecture given at the International Viola Congress in Reykjavík.

Lectures on acoustics for string players at the Xiamen Philharmonic Orchestra and at Xiamen University, Music Department in Fujian, China, October 2005.

2004-2008. Attended the Oberlin Acoustsics Seminar and workshops, in Oberlin, U.S.A.

2003. Moderated and wrote the script for a BBC radio documentary on technology and tradition in violinmaking. The programme was part of the Genius of the Violin Festival in London.

1996. Constructed a string quartet for the Icelandic Music Academy, commisioned by Sjova, the country´s leading insurance firm.

1998. The production of a 60 minute television documentary, The Violin, on violin making centering on the the works of Hans Johannsson, filmed at the Chateau de Bourglinster in the Grand Duchy of Luxembourg, featuring Sandrine Cantoreggi and Robi Lakatos. Produced with a grant from Eurimage for international distribution.

1995. Participated on Iceland's behalf in the Luxembourg European City of Culture '95. The project consisted of an exhibition on the making of a violin, and two concerts focusing on cultural exchange between Luxembourg and Reykjavik. In both cities a visiting chamber ensemble played on instruments made by Hans Johannsson.

1994 till the present.

Established and ran a violin making workshop in Reykjavik, Iceland, specializing in the construction of violins,violas,cello´s and double basses and occasional restoration of ancient works.

1993. The production of a 30 minute television documentary on Hans Johannsson, violin maker, produced for the Icelandic State Radio and Television Company.

1982-1994. Established and ran a violin making workshop in Luxembourg, specializing in the construction of violins,violas,cello's and double basses. Member of the Luxembourgish Chambre des Metiers.

1980-1982. Worked as a violinmaker in Iceland. Recieved a Master's Certificate from the Icelandic Chamber of Commerce.

1977-1980. Newark School of Violin Making, Great Britain; graduated with a "Diploma cum Laude".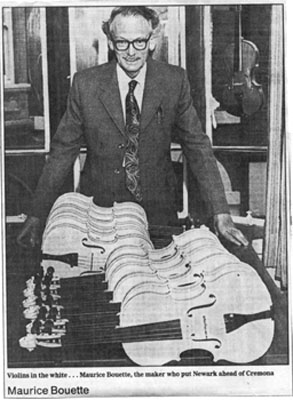 Maurice Bouette, the founder and director of the Newark School of Violin Making, became interested in making violins shortly after the war. He enthusiastically learned to make his first instruments under the tutelage of William Luff, who was one of Britain's finest makers. Maurice then took over Luff's evening classes and subsequently started the new violin making school in Newark on Trent in conjunction with the Newark Technical College. Maurice was a gentle teacher with a firm conviction to adhere to traditions. One of his talents was to persuade important members of the violin world to engage with the new school, and led to collaboration with amongst others the firm of Hill's & Sons, Yehudi Menuhin and Charles Beare. Students of the school enjoyed the privilege of interacting with world renowned violin experts, players and makers, an invaluable contribution to their studies. Maurice's son Martin has carried on the tradition and is a highly regarded maker.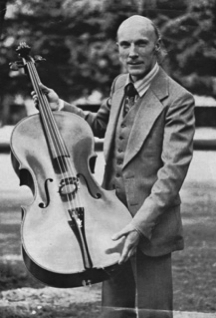 Glen Collins was introduced to violin making and trained by his uncle William Luff. Glen has in turn trained numerous makers throughout the world through his work at the Newark school. Glen has an extremely meticulous approach to the work and contributed to the high level of craftsmanship associated with the school. His favorite model was always a late del Gesu Guarneri. Here he is holding the cello he made for the prince of wales.
Gudjon Halldorsson, Hans Johannsson's grandfather was an important early influence. He was a maker of furniture, somewhat in the danish and german schools of the early twentieth century and adhered to traditional methods as opposed to mass production working mostly on his own throughout his career.
The Newark School of Violin Making 1977-1980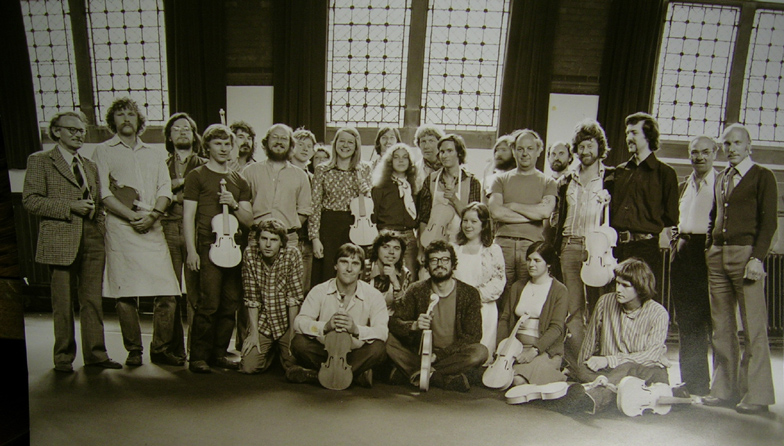 Click on a maker to find their websites
Standing from left to right:
Maurice Bouette, Joe Thrift, John Dilworth, James Rawes,Patrick Webster, Malcolm Siddal, Koen Padding, Anne Houssay, Loise Round, Dave "Paganini", Julie Reed, Roger Hargrave, Paul Weiss, Andrew Fairfax, Ron Thewlis, Brian Stone, Patrick Jowett, Gordon Stevenson, Bill, Glen Collins.
Sitting from left to right:
Brian Lisus, Lionel, Mervin Frost, John Johnston, Juliana Nicholson, Helen Michetschlager, Hans Johannsson
From 1983 to 1994 Hans worked at the Chateau de Bourglinster, a picturesque 12th century castle , standing on a cliff surrounded by pine forests in the Grand Duchy of Luxembourg. The castle has become an important cultural center, featuring concerts and exhibitions of a high calibre